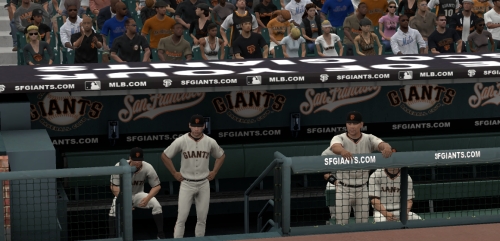 While mentioned around release time there are a bunch of problems in Franchise mode for MLB 10: The Show. SCEA has been actively tracking  these and responding with potential fixes to be implemented down the line. The roles seemingly have reversed this year as MLB 2K10 struggles with online play and The Show faces troubles in offline modes primarily Franchise.
The roster update that came out earlier today fixed the player "potential" grades however it left the inordinate number of "A" rated minor leaguers (which are primarily pitchers). In addition to that reports have come in of trades being randomly completed for user-controlled teams, freezing occurring in particular stadiums and during a franchise at certain points, CPU making too many trades involving big name players, game attendance being reported incorrectly, and other problems involving waivers, contracts, or trades. You can keep track of everything in the thread over at Operation Sports.
SCEA is communicating well about the issues but that doesn't mean they should be overlooked. Though worded carefully to avoid promising a patch (extra cautious after the bungling of the still non-existent demo it seems) it would be hard to imagine them not providing one. There has been no mention made of a possible timeline for release of the patch but a reasonable expectation would be a minimum of two weeks but it could stretch much longer.