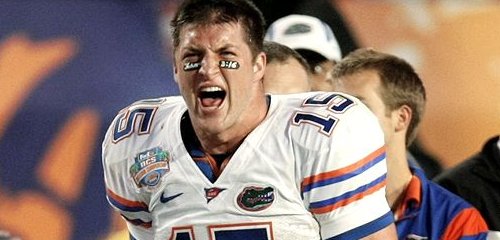 Tim Tebow will be heavily examined, particularly due to the changes being implemented in his throwing mechanics, at the Florida Pro Day on March 17th. Two teams will also be bringing him in for individual workouts. The Seattle Seahawks and Buffalo Bills have invited him in with those visits occurring sometime after the Pro Day.
This does not necessarily mean these two teams are more interested in him than any others. In some cases teams set up visits for the express reason of laying down a smoke screen, and they could even change their mind and cancel the workouts since they only get a limited number of them. However both the Seahawks and Bills do have the need to secure a QB of the future and as such it shouldn't be a huge surprise to find out they are doing homework on Tebow.
The situation in Seattle would probably be one of the more ideal fits imaginable for Tebow. He would not have to play this year instead getting the time to develop behind Matt Hasselbeck (barring injury). Depending on how Hasselbeck holds up, which could lead to a short extension, he may even have more time than that. Still I don't think this will come to fruition for a couple reasons.
Tebow is not going to come off the board in the first round, instead he will be picked somewhere in the second or third. The Seahawks do have the 40th pick however right now that looks like it may could end up being a part of a deal for Brandon Marshall. The team does not have a third round pick. Also, with this being the last year of Hasselbeck's deal, it would seem like that a guy such as Jimmy Clausen who is more pro-ready would be a bigger consideration while picking at the top of the draft. Tebow would probably not be ready to take over as a starter after just one year so that would be somewhat of a big risk to be taking.
The Bills have the 41st and 75th picks but may not have the luxury of spending a choice on a developmental QB. Especially one that may not even turn out to be a viable QB at the next level. Bottom line, in all likelihood neither the Seahawks or Bills will end up being the team that takes Tim Tebow. Someone will probably come out of nowhere with the selection. A couple teams on my radar would be Cincinnati and New England. It will be interesting though to follow who else might show some curiosity in him prior to the draft.