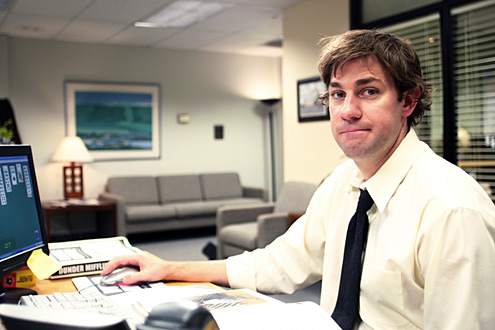 Rumors had already been swirling about who would be cast as Steve Rogers in the upcoming The First Avenger: Captain America, but nothing was official. According to Fox411, The Office's John Krasinski is the front runner for the role and it's his to lose.
Insiders at the Marvel compound tell Fox 411 that he is close to landing the superhero gig of his life. John, who plays Jim on "The Office," has appeared in front of producers repeatedly since the start of the new year and since rumors began in February.

"John has read 4 times and is doing screen tests," our source tells us. "He has screen tested 2 times so far. It's very likely that he will be the new Captain America. He is a favorite among the key decision makers and has been asked to come back for more this week."
I think many are having trouble picturing Krasinski in the role, but I know people thought the same about Heath Ledger as 'The Joker'. We all know how that turned out. Who's to say we won't be pleasantly surprised by Krasinski's performance, if he should get it. Does hearing the news make you more or less excited about the movie? The First Avenger: Captain America hits theaters on July 22, 2011.
(Update) Marvel is denying the news and apparently a new name has entered discussions. Chris Evans (Fantastic Four, Push) is now amongst the names most strongly considered along with Garrett Hedlund (Tron Legacy, Friday Night Lights) and Mike Vogel (Cloverfield).