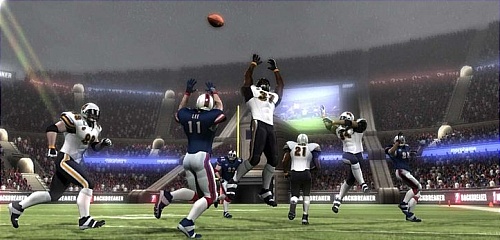 The release date for Backbreaker appears to have been pushed back by a week to May 25th. Why this would be done remains a mystery but retailers including Gamestop, Amazon, and Gamefly along with gaming sites such as IGN and Gamespot all show the new date meaning 505 Games has informed them of the change. At this point a delay of a week would not seem to signify that there are issues at hand with the game as anything serious would not be solved in such a short period of time. Still this creates a problem for Backbreaker as it is now scheduled to release on the very same day as UFC Undisputed 2010.
UFC was the top selling sports game only behind Madden last year. It will likely see a sales surge even well above what UFC 2009 sold, as it faced an uncertain open being the first attempt in the franchise. Now that it has established itself, captured consumer confidence, and with the following of the sport continuing to grow it will have an even bigger opening. Essentially imagine a new attempt at an unlicensed sports game being released on the same day as Madden. That is a similar scenario to what Backbreaker has put itself in.
While UFC is obviously a completely different sport it is competition for dollars at the very same time and will be seen by many as a "first choice" purchase. For Backbreaker to come out on the same day it would mean asking many people to shell out $110 plus tax which could be too much for those outside of the small core of people who are highly anticipating Backbreaker.
This date could really damage the potential of Backbreaker sales initially. While first day/week sales are not going to be as heavy a percentage of final sales as a sequel would be, the less copies out early in its life cycle means the less likelihood of word of mouth making a significant difference. The long term performance, which could determine whether sequels are released, will be reliant on that word of mouth. An early demo will certainly be a critical element that could help to overcome issues faced with consumer confidence especially when competing for dollars with already established titles in the same time frame. An exceptional demo is a big reason why UFC 2009 exploded onto the scene and went on to become a huge success.