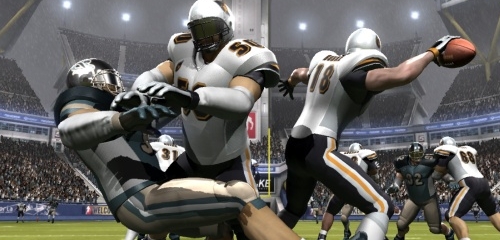 Coming out of the Game Developer's Conference is the first directly captured gameplay footage of Backbreaker by independent outlets. Both IGN and Gametrailers have released videos while IGN also includes updated hands-on impressions. The event provided the first opportunity for media types to try out the game's splitscreen multiplayer.
That doesn't mean that there weren't still issues present. I'm still not a huge fan of how Backbreaker handles running the ball outside and switching players on defense. Both are problems because of the camera angle that's used. When running the camera is still too close to be able to see defenders curling around the offensive line. On defense, the camera angle makes it jarring to switch from a blitzing linebacker to a safety in man-to-man coverage. There's no frame of reference for what the player you're switching to might be doing and it can be frustrating when the opposing team's offense breaks big plays because you can't effectively switch.
For the most part the game continues to have potential to be fun, and a good change of pace, but the expectations have to be reasonable going in. Otherwise there is going to be a lot of disappointment surrounding this title. The reaction to the videos appears to be largely negative, which is likely due to some backlash from expectations that were too high to begin with. As stated before an early demo will be crucial, and releasing the same day as UFC Undisputed 2010 is going to make it difficult to break out as a sleeper hit. Continue on for the videos and leave your thoughts in the comments!