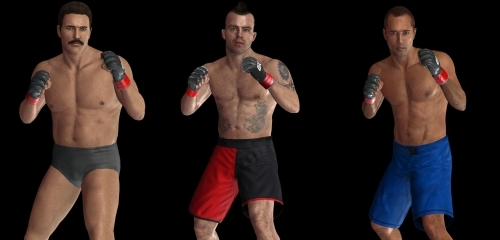 UFC Undisputed 2010 will be providing exclusive content in the PS3 version of the game. As of now these extras will not be available for the 360 even via downloadable content, though that could change down the line. The PS3 version will be receiving exclusive fighters as well as exclusive "Ultimate Fights". Though these additions seem unlikely to change someone's purchase from one version to the other they are notable enough to mention.
The "legends" (pictured above) who will be available only on the PS3 are Dan Severn, Jens Pulver, and Royce Gracie.  Severn and Gracie are no longer active in the UFC but are Hall of Famers.
While the 360 and PS3 will share the same base 15 "Ultimate Fights", which provides an opportunity to recreate the great fights of the past, the PS3 will have an additional five.
UFC 18- Carlos Condit vs Martin Kampmann
UFC 60- Matt Hughes vs Royce Gracie
UFC 66- Keith Jardine vs Forrest Griffin
UFC 68- Martin Kampmann vs Drew McFredries
UFC 102- Nate Marquardt vs Demian Maia