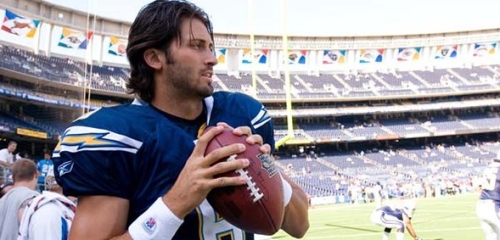 Most everyone has expected the Seahawks to draft the QB of the future this year, with Jimmy Clausen being the intriguing option that could still be available when the 6th pick is on the clock. However earlier today the team traded with the Chargers to acquire Charlie Whitehurst. In giving up 20 spots in the second round and a 3rd rounder in the 2011 draft, along with a two year $10 million contract, Seattle has made it clear that Whitehurst is going to have the opportunity to be that guy for them rather than grabbing one in the draft.
From the Seahawks standpoint the trade makes a lot of sense, though the price comes across as somewhat steep, particularly if they weren't enamored with Jimmy Clausen. Giving up the equivalent of the last pick in the second round they get a guy who has been sitting and learning with a coach known for developing QBs. He was never going to break though in San Diego with Philip Rivers there. Though he'll be 28 at the start of the season he has high potential and could be the QB of the future for the franchise. In getting him the team doesn't risk the huge contract and use of a top draft pick on someone that would be even more of an unknown, though depending on evaluations maybe have a higher ceiling.
This also increases the possibility that Matt Hasselbeck could be traded. While I don't see that happening it isn't out of the realm of possibility. He is going into the last year of his contract and has had difficulty the past couple years staying healthy. More likely he'll stay, getting a 4th or 5th rounder for him would not be worth more than having him on the roster, and should he get injured Whitehurst would get the chance to play. Depending on how he performs he might not give the job back, in a situation reminiscent of how Hasselbeck took over for Trent Dilfer.
What this means for the draft is that the #6 pick could be up for grabs to a team that wants Clausen, should he be available. The most likely suitors could be Cleveland or Buffalo who would only have to move up one or three spots respectively to grab him. If Seattle does not involve either of their two first round picks in a deal to get Brandon Marshall then they will likely take some combination of Eric Berry, CJ Spiller, Dez Bryant, or an offensive tackle.