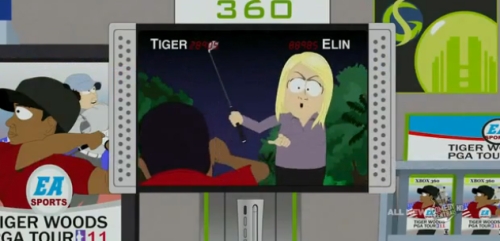 (Update) EA Sports has contacted me in order to inform that they have no intention to sue over the South Park episode. The source of the story, Daily Informer, was inaccurate with the posting of the information. New story can be found here.
In the wake of the season premiere of South Park comes news via Daily Informer that EA Sports is planning to sue the creators of the show, Trey Parker and Matt Stone. As mentioned in the article following the episode there were several references made to EA Sports Tiger Woods 11, including supposed footage in which it had turned into a fighting game between Tiger Woods and his wife Elin Nordegren.
When I first watched the episode I wondered how it would be perceived by EA Sports. I ultimately came to the conclusion that it was good publicity for the game and that they would probably get a laugh out of it as well. The crowd that watches South Park isn't likely to care that a joke is being made at their expense, if anything it was free promotion for Tiger Woods 11. However it now appears they had a completely different reaction.
EA Sports put themselves in this position by continuing to support Tiger, believing that the dollars he makes them would still be worth it. Realistically they couldn't have expected that they would avoid being a target for doing so when many other companies ended their endorsement deals with him. Rather than worry about jokes on South Park maybe EA should consider how the text messages that were exposed on the web this last week make him, and by association them, look a lot worse.