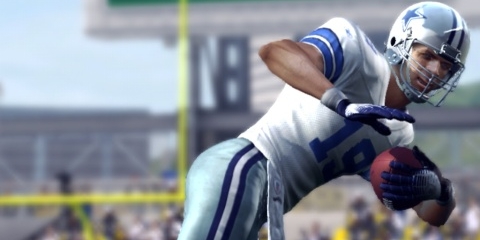 Other than the mantra of Madden 11 being "simpler, quicker, and deeper" there has been little in the way of specific details about the upcoming game. However today IGN posted the first news about Madden 11 along with the first two screenshots which feature Miles Austin and Anquan Boldin. This first article focuses on the passing game, specifically improvements to catch animations and receiver AI. You can check out the full article here and I've also added the screens to the gallery.
We've added all new animations for mid-air collisions so defenders have an even better ability to get up with a receiver and fight for the ball. With recent changes, players will definitely play the ball more aggressively, but the elite guys are the ones who are going to be able to hang on to it.
Hopefully this means the removal of the mid-air flip animation which has been seen far too often, presumably because there were no others available for those situations. It's also important that they get the end zone fade route in this year, it's a big part of the NFL that has been missing from Madden.  The biggest thing to me out of this article is improved sideline awareness, though the issue I take with being promised it this year is the same was stated last year in a blog about sideline catches and it was no where to be found in the final product.
(Update) And just like that, Ian Cummings confirmed the mid-air flip animation is out!