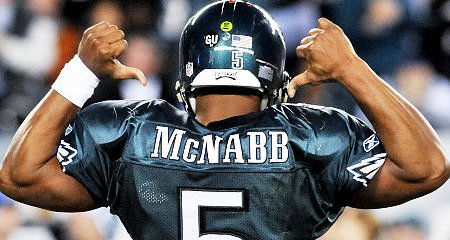 A report today in the Philadelphia Daily News stated that the Rams and Eagles were close to making a deal which would involve Donovan McNabb being sent to the Rams in exchange for their second round pick (#33) and possibly also include OJ Atogwe. This has apparently been denied by a Rams source but the rumor continues to swirl nonetheless.
When I first heard this I found it hard to believe. McNabb could make St. Louis better in the short term sure, maybe help them towards a few more wins, but he is already going to be 34 years old in the middle of the coming season. Why would a team, that is no where near contending status, trade for a QB that only has another 2-4 years of strong play ahead of him? Passing over a guy that could be viewed as a franchise QB for the next 10+ years in the process? It just doesn't make much sense.
If they were to acquire him that would probably mean the team was planning to draft Ndamukong Suh at #1 or trade out of the spot. But I have trouble contemplating a scenario right now where the team doesn't draft Sam Bradford. This of course could all change though if he is not cleared medically or if concerns about his durability cause the Rams to shy away from him.
It seems probable that McNabb is going to be traded somewhere, and sooner than later to avoid dragging it out and upsetting all the QBs that could remain on the Eagles roster with constant rumors and questions going forward. Other teams that have reportedly shown interest include the Raiders and the Bills but McNabb has made it clear he will not go to either. Since this is the last year of his deal he essentially has the ability to veto a trade, no team is going to go for him if he isn't going to sign a contract extension with them. A couple other teams that could eventually be tempted include the 49ers, Panthers, and Vikings.  Those destinations would likely be more appealing to him.