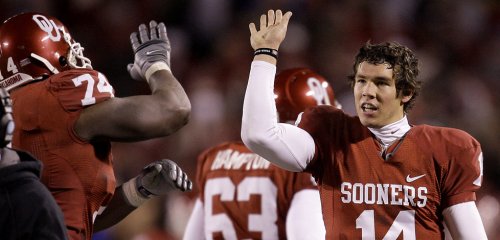 The highly anticipated Pro Day for Sam Bradford took place earlier today, and all accounts are that he came out of it having impressed those in attendance. Gil Brandt, former Cowboys VP of player personnel,  actually said that Bradford's workout was the best he had seen since Troy Aikman. Pete Carroll tweeted that he "lit it up".
While not everyone will be making those caliber of claims at least publicly, it appears that Bradford threw with good velocity which was the worry going in given the reconstructive surgery on his throwing shoulder. His accuracy has never been in question. He completed 62 of 63 throws, the one incompletion being a drop by the receiver. He was on the mark on all the passes that included short, medium, and deep routes.
Despite the great showing there are still medical evaluations to be done behind the scenes. If the medical staff clears Bradford, it seems he is basically a lock to go #1 in the draft to the Rams. They will not pass over a guy who could become their franchise QB.