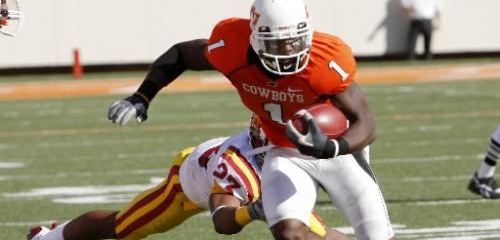 Following the heralded Pro Day for Sam Bradford yesterday, another player with some questions was in the spotlight today. Oklahoma State receiver Dez Bryant, who did not perform at the combine, went through many of the same drills including the 40. During catch drills he reportedly dropped a few balls early but then recovered and performed well.
Times recorded on the 40 were disappointing but not unanticipated. He ran a 4.52, then a 4.68 (into the wind), before being asked to run it a third time in which he hit 4.52 again. Those are not numbers that peg him as slow but he does not have elite speed. It is important to put things in perspective though. Guys like Brandon Marshall and Larry Fitzgerald ran their 40's in the mid 4.5s and he fits a similar mold.
Better were his vertical of 38″ and his broad jump of 11'1″ which displayed his explosiveness and athleticism. Those things, similar to the players mentioned earlier, can somewhat cover up the lack of elite speed. Other concerns though included Bryant not seemingly interested in completing the short shuttle, long shuttle, 3-cone drill, and bench press.
Apparently, Bryant forgot his cleats and had to use new shoes that were not broken in. That is being used as an excuse for the mediocre 40 time but his lapse in forgetting something so critical has caused some to wonder again if he has his head on straight.
Dez Bryant's Pro Day will likely drop him down on mock draft boards but I personally don't think it will damage him that much. If Seattle does not pull off a trade for Brandon Marshall, and he is sitting there at pick 14, they may be inclined to take him if Pete Carroll believes he can assist him in maturing. Buffalo, Jacksonville, Denver, and Miami ahead of there could consider him as well. Physically Bryant is an ideal #1 receiver but concerns over his attitude appear warranted.