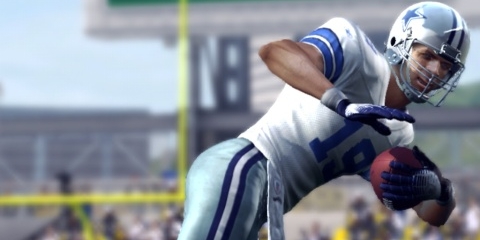 EA Sports president Peter Moore has released a blog detailing ways in which the company is connecting with fans for Madden 11. The cover voting and demo voting are mentioned but new is the ability for fans to go on the Madden website on Draft Day and suggest
Another first for EA SPORTS during the NFL Draft will be the ability for fans to influence rookie ratings in Madden NFL 11. On draft day, ratings guru Donny Moore will post what he thinks the rookie ratings should be. Fans can then go to the Madden NFL website and enter their own ratings for each rookie. Donny will use the fan average as the player rating baseline for when training camp and pre-season begins.
Now, I'm all for involving fans. I think that suggesting ratings changes through comments here and on the EA website have paid dividends and resulted in higher accuracy and relevancy in the ratings. It is much easier to evaluate and suggest adjustments than to recommend a starting point though. Last year the ratings released during the draft were tweaked before the game came out, and some of that was based on feedback. However in this case it might be taking it too far.
Think about it. The Cowboys draft someone and all Cowboys fans will suggest a really high rating. All fans of the Redskins, Eagles, Giants, and other teams will likely penalize the player. Tim Tebow? I can't see Donny Moore working off a base rating of 30 just because everyone wants to hate the guy and knows he won't be playing much if at all this year.
Most fans simply don't know a whole lot about the players, outside of maybe the big name guys. How does the typical fan determine what they'd rate the different offensive tackles? You can't tell me that many people know enough about the difference between Russell Okung, Bryan Bulaga, and Trent Williams. Even though I've spent so much time researching and watching games for my mocks I'd still be hesitant to provide my thoughts on ratings. Rookie ratings though have always tended to be primarily based on order of selection. Basically starting in the mid-80s for the top pick and then slowly trending down. So maybe a new way of looking at them is a good thing.
All that being said, ultimately EA/Donny Moore will make the final determination on the ratings as always. It wasn't mentioned whether this will be done just for the first round (the first night of the draft) or if it will continue into later rounds. What do you think of being able to make ratings suggestions for rookies during the draft? Leave your thoughts in the comments!