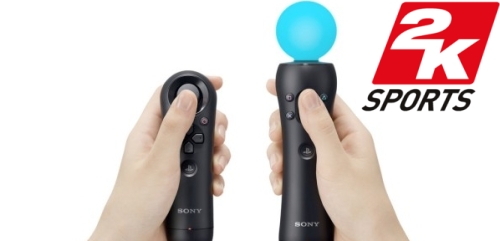 Based on a statement given in an interview with the[a]listdaily, 2K Sports has made their intention known of supporting the upcoming motion control systems for the PS3 and 360. Playstation Move and Project Natal will both be out in time for the holidays. The discussion was more regarding Move, but it would seem likely that they are looking at offering Natal supported products as well.
Presumably the motion controls would be instituted in next year's games and would not be patched into any that are currently out. For 2K Sports the MLB series seems to be the most natural one to include motion controls, with the possibility of others being created with motion in mind. The Wii has shown that games which are team oriented that require switching of players are more difficult to translate and not as accepted by consumers, so it would be hard to imagine a simulation such as NBA 2K getting the motion control treatment.
A big question though is how seriously will 2K actually take the implementation of Playstation Move? They have shown they have no concern about their consumers on the PS3 by avoiding patches for games that have received them on the 360. The latest example is with MLB 2K10 where a 360 patch was rushed out but there are no plans to release it on the PS3. Instead they are waiting for a future patch to roll all the changes into, seemingly just to save money. So given that they are submitting to The Show on the PS3, which will also utilize Playstation Move, what is there to believe that it will not just be a tacked on gimmick?
What will be more interesting is what comes with Project Natal. That isn't something that will just be added into a current game, it will have to be a completely different game. It would be intriguing to see a Natal specific baseball game at some point to go along with the standard MLB 2K11.
Other sports that would make sense include tennis and boxing, which 2K has published in the past. It could also be the route they take should they decide to bring back the NHL series.