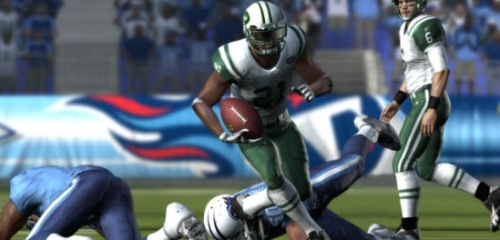 Earlier this week the addition of a new locomotion engine was announced for NCAA Football 11. That news, a very core gameplay enhancement, garnered more positive reaction than any improvement or feature reveal has in quite some time. Now the detailing of the locomotion engine expands with an explanation of how it is being utilized in Madden 11. You can read the full blog here which includes some videos demonstrating the tech in action.
At the start of the Madden NFL 11 cycle our goals were to integrate acceleration, momentum, and direction changes into the game in a way that felt responsive; was easy to tune; and looked more like what you see in an actual NFL game. With those targets in mind, we have completely ripped out our old locomotion engine and replaced it with a brand new system. We collaborated closely with the FIFA team and are combining the best parts of their locomotion system (called RailTracks) with a brand new tech we created specifically for Madden NFL 11. This new system has allowed us to meet our goals, and I'll discuss how the tech affects the way the game looks and feels – focusing on momentum, acceleration, and the look on the field.
I've also included the videos after the break and the new LaDainian Tomlinson screenshot above (now a larger size), along with all others released so far, can be found in the gallery. As always feel free to leave your thoughts in the comments!