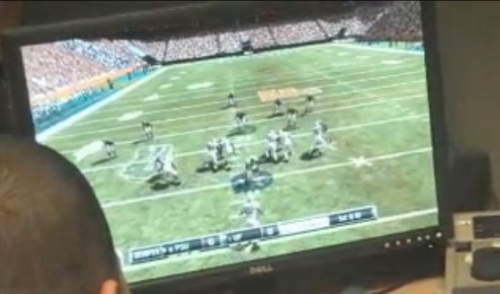 For all who have been pleading for ESPN style presentation to be added in the NCAA Football series, it appears you will be getting just that. While there were some comments made in the earlier article regarding the spotting of ESPN in an image, I hesitated to post on that because I couldn't make it out myself. However EA Sports released a video of the cover shoot in which the ESPN branding is clearly visible.
While this does not necessarily mean there will be full-on ESPN presentation, it would certainly seem to reason that the incorporation of ESPN would be much more than just the scorebar. There could be ESPN presentation throughout NCAA 11, or maybe even different presentation styles depending on the circumstances of the individual game that is being played. NCAA Basketball 11 featured both CBS and ESPN presentation. In the case of NCAA Football I could see a combination of ESPN and ABC being the most plausible.
This would make for the third confirmed addition to NCAA Football 11 that was listed in the leaked survey back in November. Locomotion, ESPN presentation, and also authentic college offenses for every school which was discussed in the Tebow press release. Having those three already known could be an indication that even more from that list will be revealed going forward.