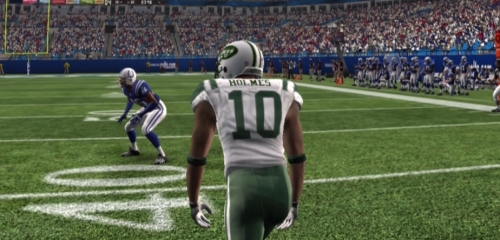 For the second consecutive Sunday a big trade has gone down. It isn't very often that Super Bowl MVP's are traded, but when they are they generally fetch better than what the Steelers have obtained in exchange for Santonio Holmes. Holmes has been traded to the New York Jets for a fifth round pick (151st) in this year's draft.
The Steelers have recently been dealing with a troubling image hit due to the actions of both Holmes and Ben Roethlisberger. Holmes is actually facing a potential four game suspension due to reports of a failure under the league's substance-abuse policy. That, along with his recent legal issues, and even incidents such as responding to a fan on Twitter with "kill yourself" has led to the need for the Steelers to ship him out of town. Just getting a 5th rounder shows how poorly he is perceived and how the team felt they would be better off without him despite his talent.
Another thing to consider is that Holmes has just one year left on his contract, so rather than letting him walk after this season they chose to at least get something in return. The Jets are now in an interesting position as both Holmes and Braylon Edwards will be free agents after the coming season. In all likelihood they will only retain one of them, and it puts them in a position to play for a contract and possibly have productive seasons with that goal in mind.
What are your feelings on the trade in general as well as the impact it will have on Madden 11? Holmes finished Madden 10 rated as an 88. Acquiring him gives the Jets three receivers rated in the mid-upper 80s. Continue on to check out more screenshots of Holmes playing for the Jets and leave your thoughts in the comments!