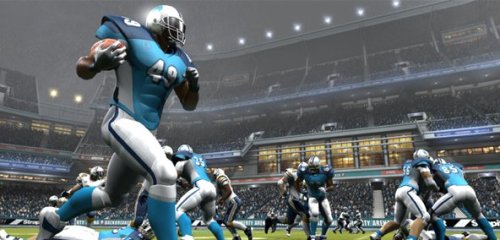 Yesterday I posted about the confusion over the release date for Backbreaker, which after having settled on an official date of May 25th appeared to be in limbo. Today it was confirmed on the Backbreaker forum that the game has been delayed by a week and is now (tentatively) set to come out on June 1st.
But we aren't going to rush this. We'll release it when we are ready to. You'll have seen already that the release date has been bumped back a week. We're happy with the extra time that 505 Games has allowed us in order to really finish things off nicely. Even the addition of a few extra days has meant a great deal of difference.
Backbreaker is in a tough position. It has to release with enough of a gap before NCAA Football 11 hits. The June 1st date is a decent fit particularly because it now avoids releasing on the same day as UFC Undisputed 2010. However from the statement made it seems they are leaving a window open for an even further delay. A week, or a few weeks, are not going to change the landscape of the final product.
Expectations from gamers have crashed and multiple sources of mine who have played the game recently are down on it. Right now the prospects for Backbreaker are looking particularly dim given the proximity to when it is expected to release. The last six weeks or so of a game's development are spent in final QA testing, Microsoft and Sony certification, and then manufacturing and distribution. If the game is thought to need more time to improve, we could be seeing a delay into the later months of the year.