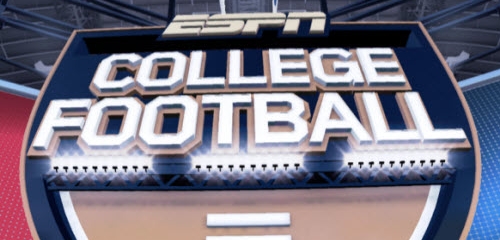 Last week the introduction of ESPN presentation in NCAA Football 11 was first discovered. Today EA Sports has posted a blog confirming ESPN presentation while going into detail how it will be implemented in the game. You can check out the full blog posting here which includes a couple presentation related screenshots. Those five images along with an additional one that displays the ESPN wipe can also be viewed in the gallery.
One of our first goals for this year's title was to give our in-game presentation an upgrade with the audio and visuals of ESPN College Football. Previously, we had only gotten our feet wet with ESPN integration by implementing the ESPN SportsCenter updates and the news ticker. But everyone here, as well as everyone on the forums, felt that the ESPN experience just wasn't complete without the ESPN College Football theme music and the in-game visuals and presentation.
Areas that will see the new ESPN integration include the scorebar, banners, replay wipes, and the menus, along with the addition of the ESPN College Football theme. No mention was made of any changes to commentary in the blog. So what are your feelings on the arrival of ESPN presentation in NCAA Football 11? Leave your thoughts in the comments!