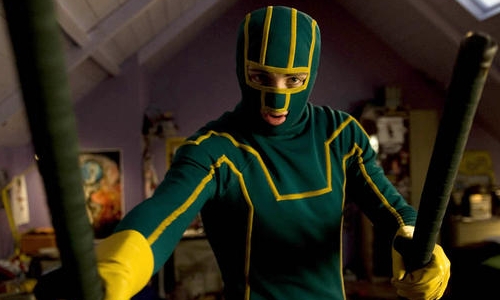 Kick-Ass was able to scrape by How to Train Your Dragon for the top spot at the box office this weekend. The comic book adaptation pulled in just under $20 million, beating out Dragon by just $200K. That movie continues to drop at an extraordinarily low rate as word of mouth has carried it well since release. Kick-Ass hopes for similar results in coming weeks.
The internal multiplier (Friday vs the weekend total) for Kick-Ass was 2.64 which is encouraging for a movie of this nature and shows that the buzz has been spreading. The wildly enthusiastic response from moviegoers should give it a boost going forward and keep it from seeing large drop-offs. I would not be completely shocked to see it do about $15 million next weekend as people are recommended it, learn the true nature of the film, and even go for repeat viewings.
The $20 million though did fall below industry expectations which were closer to $30 million. Still, the movie was made on a modest $30 million budget so it will easily end up being profitable regardless of holdover strength, and then it should also do very well when it gets to DVD. The question just becomes how much money would be invested into a sequel and the overall prospects of the future of the Kick-Ass franchise.
The other opener, Death at a Funeral, also opened slightly below expectations as it made $17 million. Its long term outlook is not bright, reviews and audience response has been lukewarm. The ensemble comedy was a remake of a British film from just three years ago, and didn't seem to resonate as strongly with the urban community as other recent films have.
1- Kick-Ass $19.8 (OPEN)
2- How to Train Your Dragon $19.6 ($158.2)
3- Death at a Funeral $25.4 (OPEN)
4- Date Night $16.7 ($48.6)
5- Clash of the Titans $15.5 ($132.7)
6- The Last Song $5.9 ($50.2)
7- Why Did I Get Married Too? $4.1 ($54.8)
8- Alice in Wonderland $3.6 ($324.1)
9- Hot Tub Time Machine $3.5 ($42.5)
10- The Bounty Hunter $3.2 ($60.4)