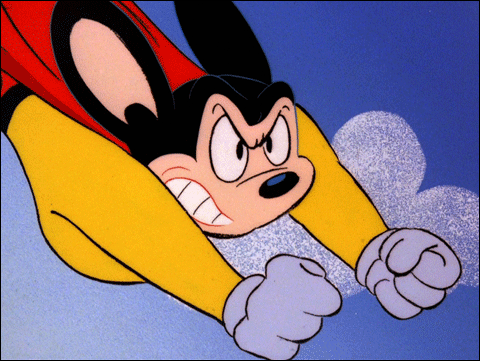 The La Times' 24 Frames Blog is reporting that Paramount is working on releasing a reboot to the popular cartoon Might Mouse.
The project, based on the vintage cartoon about a crime-fighting super-mouse (which will surely get a modern spin) has been in development for several years at Paramount and its Nickelodeon Movies label. A number of writers have taken stabs at a script over that time, including the Gunn brothers (Brian and Mark), who also count the "Journey to the Center of Earth" sequel among their credits.

But the studio has, over the last few months, been seeking both a new writer and a new director for "Mouse," with a number of up-and-comers on the list.
As long as this film isn't similar to Alvin and the Chipmunks it might not be so bad. I'd really prefer an all CGI movie instead of one which incorporates real and animated characters. Nothing has been mentioned about the direction the film would go. Will we have a modern day 'Mighty Mouse', or will it be based off the same time period in when the cartoon took place? No date for the films release was mentioned.