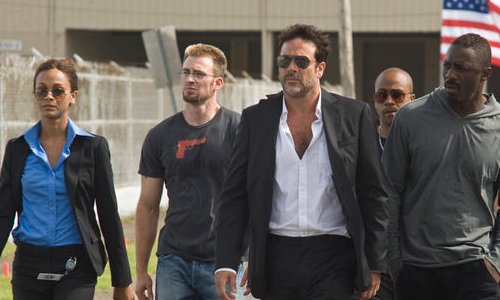 Last weekend it was Kick-Ass finishing atop the box office. This time around another comic adaptation, The Losers, hopes to grab the crown. The other new entry is the Jennifer Lopez romantic comedy The Back-Up Plan.
The Losers focuses on a CIA special-ops team that are set up and left for dead, they then work to enact revenge on the man responsible. Make sure to check out my review here. The cast is full of strong personalities, most notably Chris Evans, but there are no standout names that have a history of consistently drawing an audience. Marketing wise the ads for the film have not been very compelling and there doesn't seem to be any excitement around the release. That is telling for a property that has a built-in fanbase of graphic novel enthusiasts.
The PG-13 rating provides the opportunity for a wider audience than an R rated would, and the more light comedy/action combo should have decent reach. Reviews have been mixed but leaning negative. This is a case where positive reviews would have provided a much needed boost to awareness. The Losers could see a take of around $13 million this weekend.
It has almost been five years since Jennifer Lopez last opened a movie wide with Monster-in-Law. That opened to $23 million but The Back-Up Plan does not carry similar expectations. The movie follows her character who meets the man of her dreams just after being artificially inseminated. That won't be a very appealing concept to many. Reviews have been poor, but that is unlikely to have much sway as those who have initial interest in this will probably still see it. The Back-Up Plan could open to about $10 million.
Opening Predictions
The Losers: $13 Million
The Back-Up Plan: $10 Million