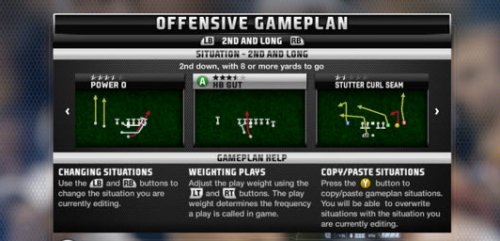 The introduction of the GameFlow play-calling system in Madden 11 is clearly going to be the feature that gets the most promotion this year. It seems that EA Sports believes this feature will have wide spread appeal and bring in some gamers who may be intimidated by the intricacies of the game. It has already been discussed in some videos, brief details laid out in the press release, previewed by various sites, and got spotlighted in the first trailer.
Now EA has posted an even more detailed blog on the feature as well as released a video showing off a few examples of it in action. The blog also goes into the GamePlan feature that ties in. That is probably the element that will most interest experienced Madden gamers.
You have a total of 15 play slots available per situation, and the situations are the same defined by a real NFL coach's play sheet. For each play in any situation, you can adjust the "weighting" of the plays from between .5 to 5 stars. Weighting plays determines the frequency a play is called in game. You can create and save as many game plans as you want.
I think I would've preferred custom playbooks over GamePlan, but it is a definite improvement over digging through formations and searching for particular plays. What interests me is how GameFlow will be implemented online. The feature is optional offline, but for ranked games it would seem seem to be necessary to lock it on for both users otherwise that would defeat the purpose of using the feature to speed up games. If I'm using GameFlow, but waiting for my opponent to choose a play every time, that would probably be somewhat frustrating.