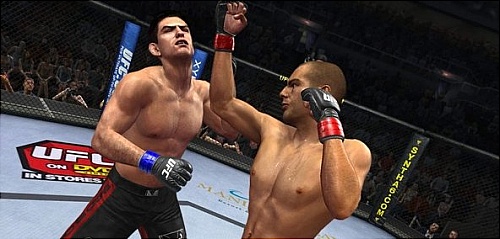 For the most part the whole troubled demo situation for UFC 2010 Undisputed has been magnified by a lack of communication. Much of that was discussed in the earlier article, as codes were supposed to come out in the early AM hours but never did, and it wasn't until after noon pacific time that THQ provided any sort of update. That was to announce the code distribution would be delayed until the evening hours. The most recent official update was one saying they are "working on getting them out ASAP".
Now though a tweet from UFC fighter (and UFC 2009 cover athlete) Forrest Griffin may have provided the news that many were dreading, though at this point probably expecting. The release of codes is now being targeted to happen tomorrow. According to Griffin he was informed of this by his publicist and a representative from UFC after having tweeted that the demo was available earlier in the day. Cain Velasquez has now also stated it will come tomorrow. It seems as though many fighters tweeted something about the demo having gone out including the four fighters featured in it. That having been done probably aggravated the situation even further.
To this point THQ has not confirmed that the demo release has been pushed back beyond this evening. Should that confirmation come, or info to the contrary arrives, I will update immediately.