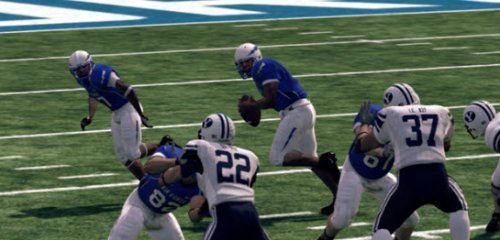 EA Sports has posted a new blog detailing improvements to blocking assignments in the run game for NCAA Football 11. There is also a video that demonstrates a few of the changes by comparing NCAA 10 to NCAA 11. Check out the full blog posting here where some new screenshots are included along with explanations of the changes and effects they have.
In NCAA Football 11 you're going to find shotgun runs to be more effective than they have ever been in any of our games. In college football shotgun running is a huge part of many teams high powered offense. You have to be able to mix it up, whether that means throwing in a Read Option, HB Sweep, Jet Sweep, HB Draw, Wild Cat, etc. That is where a lot of our focus has been for NCAA Football 11.
These same improvements will be implemented in Madden 11. Continue on to watch the video and leave your thoughts in the comments!