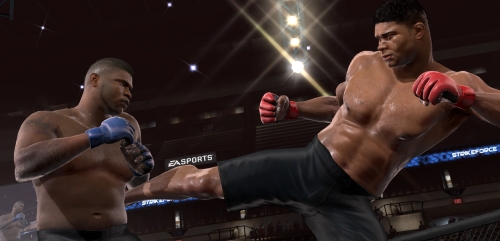 Seven new screenshots have been released for EA Sports MMA. The new screens can be found in the gallery. In addition eight new fighters have been announced for the roster. They are Andrei Arlovski, Alistair Overeem, Lyle Beerbohm, Fabricio Werdum, Kevin Randleman, Roger Gracie, Vitor Ribiero, and Murilo "Ninja" Rua (older brother of Mauricio "Shogun" Rua). All with the exception of Rua are slated to compete at this weekend's Strikeforce event.
Andre Arlovski
Arlovski is a former UFC heavyweight champion and is considered to be one of the top ten ranked heavyweights by some MMA publications. The 6'4", 240 pound Belarusian mixed martial artist has a current record of 15-7-0. Arlovski is slated to take on former EliteXC heavyweight champion Antonio "Big Foot" Silva on May 15 in St. Louis.
Alistair Overeem
Overeem, the current STRIKEFORCE heavyweight champion holds a mixed martial arts career record of 32-11-0. Overeem, a 6'5", 260 pound Dutch kickboxer makes his long-awaited return to STRIKEFORCE and will be putting his title on the line against Brett Rogers on May 15. He is currently riding a four fight win streak and has wins over notable mixed martial arts fighters including Vitor Belfort, Paul Buentello and Sergei Kharitonov.
Lyle Beerbohm
Beerbohm comes into this weekend's fight with an undefeated record of 13-0-0. Hailing from Spokane, Washington this 5'10", 170 pound professional MMA fighters has defeated 7 of his opponents by knockout and 5 by submission.
Fabricio Werdum
Werdum is a two-time Brazilian Jiu-Jitsu world champion and will be facing the legendary Fedor Emelianenko on June 26 in San Jose, California. The 6'4", 242 pound heavyweight was ranked as the #10 heavyweight in the world according to Sherdog. Com (as of April 2010) and has competed in PRIDE, UFC and STRIKEFORCE. He has won his last two STRIKEFORCE fights versus Antonio Silva and Mike Kyle.
Kevin Randleman
Randleman is a former UFC heavyweight champion and collegiate wrestler. He wrestled at 177 pounds and was a two-time NCAA Champion for Ohio State. Randleman, of Columbus, Ohio is a tremendous athlete with explosive power and currently holds a record of 17-14-0. At 5'10", 205 pounds, Randleman has an extensive MMA background with fights in the UFC, PRIDE and STRIKEFORCE.
Roger Gracie
Gracie holds a 2-0 career record and makes his long-awaited STRIKEFORCE and United States MMA debut on May 15 when he squares off with MMA legend Kevin Randleman. The 28-year-old Gracie, is a second degree Brazilian Jiu-Jitsu black belt and is a native of Brazil.
Vitor Ribeiro
Ribeiro is a 5'8", 155 pound Brazilian Jiu-Jitsu specialist who has a career record of 20-3-0. He is an accomplished grappler and has won the Brazilian Jiu-Jitsu World Championship four times. Ribeiro will be making his STRIKEFORCE debut this weekend against currently undefeated Lyle Beerbohm.
Murilo "Ninja" Rua
Rua, a 5'11", 184 pound, Brazilian mixed martial artist is the former and first-ever EliteXC middleweight champion. He has an extensive fight history with PRIDE and is known for his well-rounded fighting skills. Rua is also the older brother to Mauricio "Shogun" Rua – the newly crowned UFC light heavyweight champion.