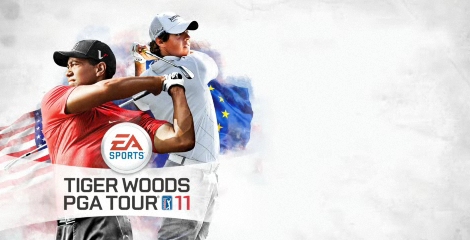 The demo for Tiger Woods 11 is set to arrive for the 360 and PS3 tomorrow (Tuesday May 18th). No word on what the demo will entail just through a post on the official forum it has been learned that it will be available to download tomorrow.
(Update) Included the press release that went out this afternoon after the break.
The build-up to the Tiger 11 release has been anything but typical with extended periods of silence on the improvements and new features and now a demo arriving even before everything about the game has been learned. Whether this is related to marketing difficulties considering the circumstances surrounding Tiger is uncertain but could be factoring in. The game is set to release on June 8th.
The Tiger Woods PGA TOUR 11 demo is now available on Xbox 360 and PlayStation 3! The demo invites you to participate in a fully customizable Ryder Cup match that includes three holes on Celtic Manor, the home course of the 2010 Ryder Cup. Share the demo with those on your friends list, via Xbox LIVE and PlayStation Network, to earn in-game Experience Points (XP).
Using the console messaging system, you can earn in-game XP for each invited friend and additional XP for each invited friend that downloads the demo. The XP can be applied to the full version of Tiger Woods PGA TOUR 11, when it launches on June 8th (North America) and July 2nd (Worldwide) to help boost your golfer's skill attributes.
In addition to the Ryder Cup feature, the demo will include the ability to play three holes on the all-new Liberty National golf course. As you hit the links, the all-new Shot Focus system allows players to make shot to shot decisions and offers a bit more risk/reward style of play. Shot Focus is used to provide that extra boost to the ball off the tee, increased spin during flight, the accuracy of your shot and most importantly putt previews. Once your Shot Focus has been depleted you will lose the advantage of those shot enhancements until it recharges.
The Tiger Woods PGA TOUR 11 demo will also introduce True Aim – a new feature that brings a more authentic style of play and immersion onto the golf course. Traditional aiming methods have been replaced with yardage markers showing carry distance, and distance to targets. It's up to you to select the right club and execute your shot. Just like in real life, once the ball leaves the club face it's on its own.