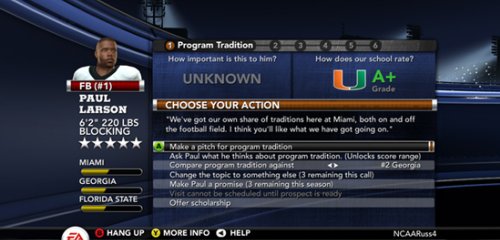 EA Sports has released a new blog, the first in a series of three, that goes over improvements to Dynasty mode in NCAA Football 11. This one touches on the "phone call" aspect of recruiting and contains some screenshots from that area of the game. Check out the full posting here.
One of the areas we felt would add the most to the Dynasty experience was a new Phone Call with recruits. The goal was to make each call more fun, a lot faster, and just a better experience all around. Much of the same concepts are still around when calling prospects. For example, your school will have the same 14 pitch types and the prospect has his rating of each, as well. The major difference is now you'll need to find a way to maneuver through each call so you can maximize the amount of points you earn.
The new options for phone calls look like good additions to make the recruiting process even deeper, though for some who may already find the process tedious and time consuming it will only provide more reason to sim through. What do you think of the new points system for recruiting calls? Leave your thoughts in the comments!