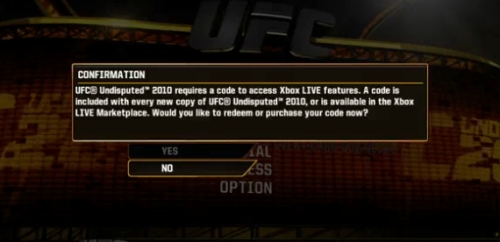 Earlier this week word started leaking out that THQ would be including a unique one-time use code in new copies of UFC 2010 Undisputed. This code provides access to all online play functionality. If a used copy of the game is bought or if the game is rented, one would have to purchase a code through the marketplace.
THQ still has not commented even on the existence of this code program, which means amongst other details we are still left to wonder if there is any sort of trial period like EA Sports will be offering (looks unlikely) or what the cost will be to purchase a code (probably $10 or $15).
(Update) With the news no longer able to be concealed THQ has released a statement which can be found in full at Destructoid. The statement contains some odd wording including "additional" and "second-time buyers" which raised my antenna that we may not know the true extent of this code program yet. According to the statement the cost will be $5 but no mention of a trial period is made which likely means none will be offered.