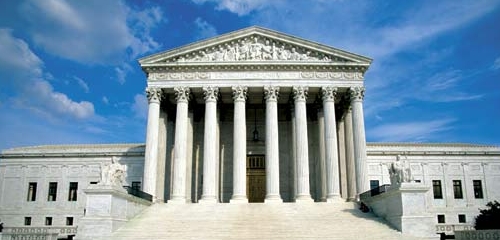 The case of American Needle v. NFL took an interesting turn today with the Supreme Court ruling that the league can not use the single entity argument in an antitrust lawsuit. American Needle has been suing after they lost the ability to create NFL licensed merchandise. They were able to produce official NFL hats with teams that they had individual agreements with until the league made a league-wide deal with Reebok that granted exclusive 10 year rights.
The lower courts had found that antitrust law did not prohibit teams from banding together for a single apparel license. American Needle had its case thrown out in the lower courts on those grounds but successfully appealed at the Supreme Court level. The NFL actually joined in the appeal in the hopes of establishing itself as a single entity had they gotten a successful ruling. Now the case will once again be heard at a lower court where it could very well lose again though this keeps American Needle's hopes alive and raises questions for the future.
Currently EA Sports has the exclusive NFL license through 2012 (Madden 13). What could this mean for gamers? At this point it is too early to say. First off American Needle hasn't won its case. What has happened is the Supreme Court has ruled that the NFL can not use the one-entity argument in its favor against American Needle. However in doing so it does seem to have opened a door for antitrust suits to be filed in other areas.
Could Comcast challenge the NFL's exclusive deal with DirecTV? Could Take Two challenge the NFL license with EA? Too early to say whether those would be viable options for companies to consider. They could end up challenging and losing even with this ruling as it will be up to the lower courts to determine whether antitrust law is being broken in each particular instance. Whether this ruling is the start of something that could drastically change the sports gaming landscape is a complete uncertainty at this point.
The worst case scenario that could come from this would be for teams to negotiate their rights with different companies resulting in fractured games. Maybe EA Sports gets the Cowboys but 2K Sports gets the Giants. Maybe a company produces a game based solely on the NFC North division and no other football games contain those teams. Any number of possibilities would remain should teams take it upon themselves to sell their rights off individually.
With this ruling that could end up being the case, though I think such a scenario remains unlikely. It would be difficult to market fractured games and the costs would be high for companies to secure teams one by one. Other than the big market teams, which might be able to demand big money, all the others would lose out in this scenario. The NFL would find a way encourage teams to band together to get the best deal possible. It would be more lucrative to stick together in the manner of a full exclusive license or an open license where companies would need to pay a large sum but in return be able to offer the full NFL experience.
So this ruling is a step towards exclusive licenses being challenged but it does not mean the current deal is going away or that the NFL won't find a way to extend the deal with EA Sports yet again. However it is definitely something to follow developments on over the coming months as a final resolution is still a long ways off and witnessing any effects from it could take years.