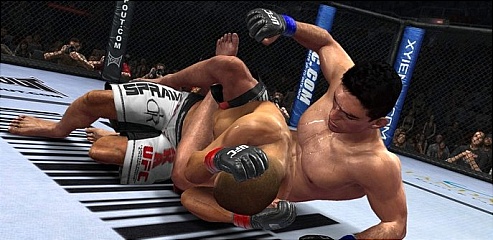 After two tumultuous days we may finally be seeing the first signs that UFC 2010 Undisputed is turning things around with its online play. As detailed on release day the issues with lag, connecting into fights, the Fight Camps feature, and troubles in other areas were creating unrest in the community. That may be easing up a bit as of this afternoon.
Yesterday the online problems were actually affecting offline users as well. The process of loading the game to the main menu took several minutes due to the game "connecting". Then, if the Xbox Live option was even scrolled past in the menu, it would stop and spend more time attempting to "connect". The server was taken down completely last night and did not come back until this afternoon.
I've now been able to get in a series of fights online. The only way I've been able to get ranked fights in is by creating a "custom match" and then waiting for someone to join the lobby that is generated. Searching for a ranked fight through "quick match" consistently leads to "game session is no longer available" or "capacity has been reached" messages.
The lag has been noticeable but most fights have been manageable despite that. There is just a sluggishness about it that you don't have offline. I had one fight that ran in slow-motion and a few that had a delay and stuttering which damaged the experience. Reports of lag issues remain prevalent and certainly even in the fights that ran decently well that shouldn't be the height of the experience provided. Several fights have ended with "connection has been lost" messages. This was not likely due to an opponent quitting but instead the server losing the connection. I'm not sure that the connection indicator on the matchup screen means anything either. I've had solid fights against opponents who's meter showed red and laggy fights against opponents who showed great connections.
When actually getting in on the fights they have been fun. I still love that they last around 5-15 minutes so it is easy to get several fights in the span it takes to play a single game of most other sports titles. I love flash knockouts, I don't think the UFC game would be as exciting without them or with them tuned down severely, however it has been irking me that no matter how in control I am of a fight I seem to lose on a punch that comes from out of nowhere.
I will not be able to test out the Fight Camps until later on. Earlier there were issues with wins and losses not recording and even trouble had with the set up of camps and invitations to members. Also the concern remains with 100 rated (or even higher) CAFs out there and ratings not being displayed on the matchup screen.
So I'll continue monitoring the situation with online play in UFC 2010 Undisputed. Hopefully the glimpses of improvement from this afternoon are an indication that the online functionality will soon provide the experience that was promised.