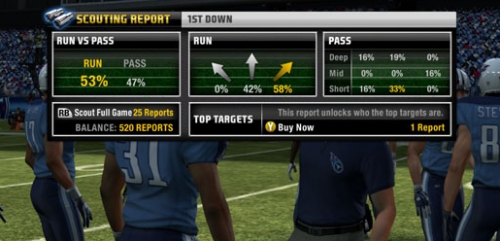 ESPN has posted an article detailing a new addition to Madden of online scouting. In online games players will be able to view the tendencies of their opponents in a variety of situations. You can check out the full article here.
"Online scouting tracks all of your play-calling and what you like to do in different situations," explains producer Donny Moore. "We're tracking every online game that you play: online ranked, unranked, and 'Madden Ultimate Team' head-to-head." And according to Moore, there are ten different situations that the game is tracking: First down, second down and long, second down and medium, second down and short, third down and long, third down and medium, third down and short, fourth down, goal line, and red zone.
I'm assuming Online Franchise games will be tracked as well though he didn't mention it there and including unranked games in the scouting is fantastic. This is exactly what I've hoped for over the years, as in any sport no team goes into a game without knowledge of an opponent's strengths, weaknesses, and tendencies. In turn this will force users to mix things up more and hopefully lead to more enjoyable online games. Update: Now I see the comment was made that it won't apply for Online Franchise. That decision completely baffles me.
But how do you unlock these scouting reports? "Madden" producer Phil Frazier provides the details: "Scouting is a consumable. So you earn coins in every online game that you play as long as you don't quit or disconnect. You can then spend these coins on scouting reports or other things within the game (gamers will also be able to use real money to buy coin packs or scouting packs, but the prices are not final).
And…there is the catch. While you can earn the coins to unlock reports they'll also be selling them. Anyone who played Madden Ultimate Team knows that it was practically impossible to progress through without spending money. Hopefully there won't be a huge advantage to those who spend money vs those who just play the game online frequently. However given that this appears to be a way to bring in additional revenue I wouldn't count on it.