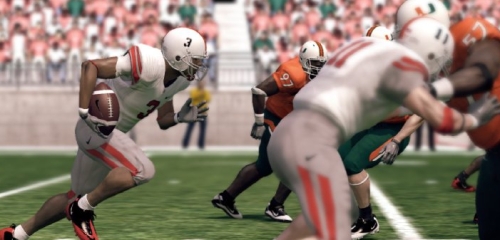 Earlier today it was revealed that Ohio State and Miami would be included in the NCAA Football 11 demo. As noted it was not explicitly stated that they would be the only teams in the demo. I've since been able to get some additional details on how the demo will be constructed as well as a change to when the demo will be out for the PS3.
There will be eight teams total within the demo and they will be selectable in four different matchups. That means that OSU vs Miami is one of the matchups but the option won't be available to take OSU/Miami against one of the other six teams. The idea with the inclusion of eight different teams is to put on display the different authentic offensive styles that have been added to the game this year.
The remaining six teams are currently unknown but they will be revealed throughout the week in a similar manner as the first two were today. Quarter length for the games is something I hope to get confirmation on but they will probably be set at two or four minutes.
Updating on the release information first provided by EA Sports the demo will now arrive on the PS3 the same day as it will for the 360. The demo will be available for both on Monday June 14th. Leave your thoughts on the demo news in the comments!