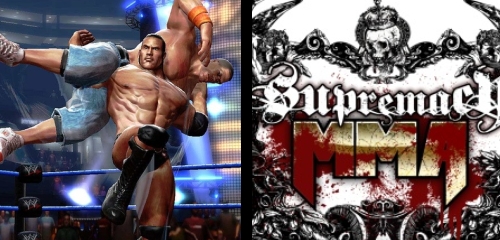 Two new games have been announced in the lead-up to E3. THQ will be bringing a second WWE game to the market to join the Smackdown vs Raw series and 505 Games will be presenting an unlicensed and extreme MMA product.
Joining THQ's portfolio of fighting games will be WWE All Stars slated to release in early 2011. In order to differentiate from the SvR franchise WWE All-Stars goes with over-the-top quick arcade style action and exaggerated graphics. It is described as being half fighting-half wrestling game and will pit a pool of legends to go along with current WWE superstars. As of now only The Rock and John Cena have been confirmed for the roster and will be on display at E3.
Kung Fu Factory is developing Supremacy MMA for the 360 and PS3 with a release date undetermined. Unlike THQ with UFC and EA Sports with Strikeforce there will be no league license attached to Supremacy. That means the game will not be constrained within particular guidelines and it will take advantage of that with graphic gameplay. Injuries that goes as far as the ability to break an opponent's neck will be a big part of that. Kung Fu Factory is responsible for the first UFC game which was released on the Dreamcast in 2000.