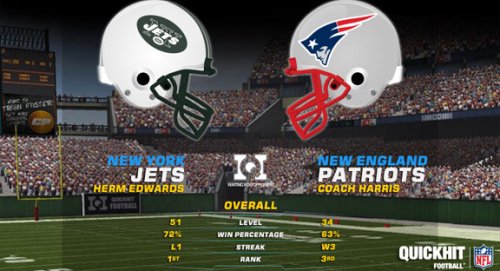 Quick Hit Football has reached a deal that will incorporate NFL licensing in the free browser-based football management sim. Kotaku broke the news which will deliver NFL team names, logos, uniforms, and all league branding into the game. Terms of the multi-year deal have not been disclosed.
The exclusive NFL license held by EA Sports covers the console games but gets a little fuzzier when it comes to other platforms. Last year NFL 2010 from Gameloft was released on the iPhone as a competitor to Madden 10. Given that EA Sports does not produce Madden 10 for the PC it would seem that the possibility was left open for Quick Hit to take advantage.
The deal does not include the NFLPA license which means rosters will remain fictitious outside of the five players that have made individual agreements with the company. A loophole in the the NFL license allows for a game to utilize up to five current NFL players. Recently Randy Moss was added to the roster which also includes Ray Lewis, Matt Cassel, Brian Westbrook, and Jason Witten. Moss replaced Osi Umenyiora and there will be new additions announced in the future to take the place of others. A handful of former coaches and numerous legendary players are also signed for the game.
It has not been completely determined how the NFL teams will be introduced however a statement from CEO Jeffrey Anderson suggests that regular teams will remain free while there will be a charge to use the NFL teams. While Quick Hit is free revenue is generated through ads and microtransactions.
Currently Quick Hit faces light competition on the PC primarily from Facebook offering Gridiron Live which provides no NFL presence. (Note: As it turns out Gridiron Live has recently been shut down). Madden however will be coming to Facebook later this year. Certainly Quick Hit would seem to have the upper-hand in respect to depth and adding the additional NFL licensing will provide a big boost to awareness, while one would expect the accessibility and name recognition of Madden to be a good fit on Facebook.