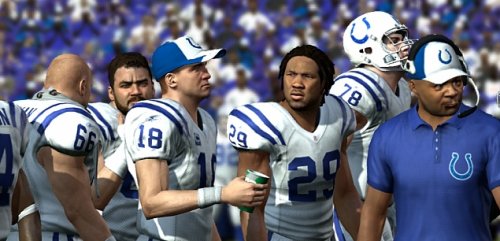 Through a blog EA Sports has stated that the career modes including Franchise, Online Franchise, and Superstar are due for complete re-writes but that will not be coming in Madden 11. The modes will largely be unchanged from last year. Franchise mode has some minor tweaks but Online Franchise and Superstar won't see much if any improvements from Madden 10.
While that meant not making any major overhauls to Franchise or SuperStar, we were still able to make some notable improvements while we prepare for the future. Specifically, we improved franchise stats (especially season rushing yards and season sacks), in-game injuries, Super Bowl presentation, NCAA Draft Class tuning, and we even completely re-created over 8000 players in 32 draft classes. We also added the new Meadowlands Stadium as the 2014 Super Bowl site.
Last year at this time Online Franchise was introduced and though it was lacking in some areas (no salary cap or free agency process, no CPU trade logic, no "Extra Point") we were told that the mode could actually be improved and added on throughout the year. Nothing was ever done with it and now it seems as though it has become an afterthought.
I noted this in my write-up regarding the online scouting aspect of Madden 11 how its exclusion from Online Franchise could be an indication that EA doesn't find the mode to be important. That suspicion has now been confirmed as those things, which are expectations to having a comprehensive Online Franchise mode, are not being included even a year later. No salary cap, method to free agency, CPU trade logic, or presentation additions.
The development of the GameFlow feature appears to have largely sapped development time from other areas of the game. The 3v3 Online Team Play is the only other significant addition to the game. Areas of improvement known so far include the commentary with Gus Johnson and gameplay with advanced locomotion.
While I appreciate the upfront manner in which this information has been dispersed it remains extremely disappointing. How do you feel about the news that Franchise mode has been largely ignored and Online Franchise has not been worked on at all? Leave your thoughts in the comments!