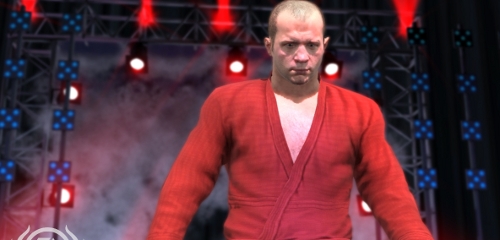 At the EA press conference earlier today it was announced making its debut in EA Sports MMA will be EA Sports Live Broadcast. Along with that they have released further details on features for the game, a new batch of screenshots, and a new trailer (which I'll have up later this evening).
Now you can have your online fight broadcast and viewed by gamers all around the world via the console or web! EA SPORTS Live Broadcast is one of the new and highly innovative online features for EA SPORTS MMA. Create your fighter, produce your hype video and get noticed by an EA SPORTS promoter. Once selected you will have the opportunity to fight for real world prizes and online fame! In addition, your fight will also feature live commentary calling your every move!
Continue on for the remainder of the features list and a few screenshots, and check back later for the trailer! As always leave your thoughts in the comments!
EA SPORTS MMA brings the authenticity of the world's most intense combat sport home like never before. Choose from the world's top fighters or climb the ranks of the worldwide circuit with your created prodigy to become the ultimate MMA champion. Travel the globe and learn a multitude of fighting techniques and skills from masters in each discipline. Select from various weight classes, rule sets, and take on all challengers in multiple cage types or a ring. The challenge continues online with the most robust offering for any MMA videogame, including the ability to create and share custom fighters, prize fights, and more. Are you ready? Let's get it on!
The Definitive MMA Experience – Featuring multiple disciplines, rule sets, locations, and fighters from, the worldwide sport of MMA, all represented authentically. Throw down in a ring, hexagonal or circular cage. Environments come to life with ring girls, corner men and the best referee in the business – Big John McCarthy. Ring announcer Jimmy Lennon Jr. provides fighter introductions, while MMA legend Frank Shamrock and Mauro Ranallo call the action.

Total Strike Control – Go on the offensive with Total Strike Control; an intuitive control system for striking, elbows, knees and kicks. Total Strike Control is accessible via analog sticks or face buttons, providing the utmost flexibility.

Advance Defense System – The best offense is a good defense, so get ready to master parrying, slipping, countering and dodging to gain an advantage over your opponent.

Feel the Fight – Controller rumble acts as an alert to simulate body movement when an opponent attempts to advance position. Take notice and use the small window of opportunity to counter or defend.

Submission Battles – Using an intuitive system, opponents must strategically manage their advances or counters to secure the desired outcome; button mashing is the road to failure. Properly manage your stamina because in MMA you must be as smart as you are strong.

Travel the Globe – Visit the most established gyms across Japan, Brazil, Thailand, and the United States to learn new skills and techniques in career mode. Bring a created fighter up through the ranks to attempt to make one of biggest stages in mixed martial arts – STRIKEFORCE. No career mode will ever be the same, ensuring a unique experience each and every time.

And In This Corner – EA SPORTS MMA will feature a vast array of fighters in its roster, including the #1 heavyweight in the world Fedor Emelianenko. MMA legends Randy Couture and Dan Henderson, as well as international stars Shinya Aoki and Ronaldo "Jacare" Souza showcase global variety. Every fighter will use their distinct style and fight like their real-life counterparts.

Create a Fighter – Use Photo Game Face to create your own, personalized roster of fighters.