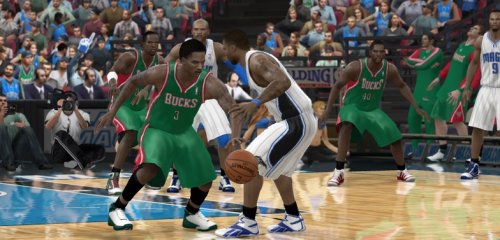 Be a Pro mode was rolled out in NBA Live 09 though just in name and not in terms of content. It was simply one-off games taking control of a current NBA player and was better thought of as a practice mode for Online Team Play. There was no character creation or progression involved and no structure to it beyond just being simple play now games.
We can basically forget about all that though as a true Be a Pro mode, similar in nature to the one found in the NHL or FIFA series, will arrive in NBA Elite 11. The info was provided in the latest edition of Game Informer. Tying in with Be a Pro will be the online mode called the EA Sports Basketball Association (think EASHL in the NHL series) that expands Online Team Play with RPG elements and a league structure. No further details on either have been provided.
One other new detail about the game is that the default camera will be north/south and not the side-to-side broadcast camera that has been implemented as the default this generation. The broadcast camera is expected to remain as an option however for those who prefer it.
So far known about NBA Elite 11 is the introduction of real-time physics, the focus on right stick controls for dribbling and shooting, the change in announce team to Mike Breen, Jeff Van Gundy and Mark Jackson, and now the addition of Be a Pro and EASBA. What do you think of the developments so far? Leave your thoughts in the comments!