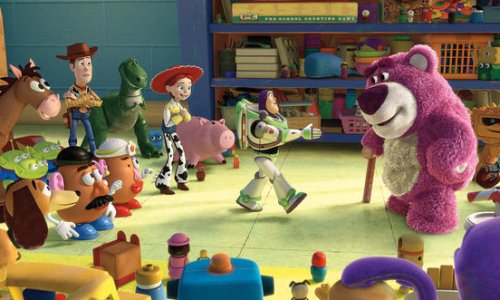 Two films on completely different paths arrive at the box office this weekend. Toy Story 3 is certain to be huge and the buzz is astoundingly high, while Jonah Hex is expected to bomb with buzz that couldn't be much worse.
15 years after the original and 11 years after the sequel Toy Story 3 is storming theaters with hopes of being a record breaker. It will have a chance to be the biggest June opening ever. The record is currently held by last year's Transformers 2 with $108 million and in second Harry Potter and the Prisoner of Azkaban with $93 million. If it doesn't break the record then it will surely take the second slot. It will also become the highest grossing Pixar opening ever which will probably be surprising to some that it is a relatively low $70 million from The Incredibles. Pixar movies are able to sustain over time at levels that few others are able to achieve.
As expected with any Pixar film the critical response has been stellar. It currently has a 111 reviews and stunningly every single one of them is positive. Toy Story 3 has something else going for it that I believe is being overlooked and that is the nostalgia factor. Fans of the series that grew up watching the first two are sure to be interested in the third. There is an older crowd that enjoyed the prior Toy Story films and are not ashamed to admit it or get excited about seeing this one and that isn't typical with family oriented films. Toy Story 3 appears to be one of the very few movies that really appeals to all ages.
On the other end of the spectrum is the comic book adaptation Jonah Hex. Reviews have been absolutely horrid and as of publish time there has yet to be a single positive review (a few have since trickled in). So this weekend brings two consensus films, one great and the other terrible.
Toy Story 3
Amazing reviews
Moviegoers trust Pixar like none other
Competition limited to second week of The Karate Kid
Appeals to all ages
Great marketing and high awareness
Ticket prices boosted by 3D showings
Jonah Hex
Appeals to fans of the comic and action-western crowd
Cast has some recognizable names
Cast names are not box office draws
The comic doesn't have a huge following
Terrible buzz leading up to release
Wretched reviews
Opening Predictions
Toy Story 3: $110 million
Jonah Hex: $13 million