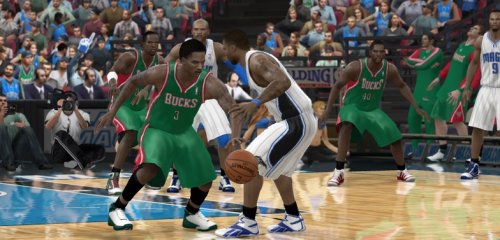 Brandon Jennings has been featured in NBA Elite 11 screenshots and even the first footage of the game leading many to believe he has been selected to be the cover athlete for NBA Elite 11. That may be the case as the cover is being announced tonight at an EA Sports run event in New York and what player arrived in NYC this morning? Brandon Jennings. This still amounts to speculation but all the factors seem to suggest more than coincidence or at least that he will play some role in promotion of the game.
If it turns out that Jennings is the cover athlete he comes off a rookie campaign where he averaged 15.5 points and 5.7 assists. He also had a signature 55 point performance only a few games into the season. I'm not sure Jennings conjures up thoughts of the "elite" NBA player though, someone along the lines of Deron Williams or Kevin Durant would've made for a better fit in that regard. He didn't even win Rookie of the Year (Tyreke Evans) and he comes from a small market in Milwaukee making the choice a little difficult to justify especially considering the competition has pulled out Michael Jordan.
(Update) Hearing that it may actually be Kevin Durant. Continuing to dig… it is Durant.