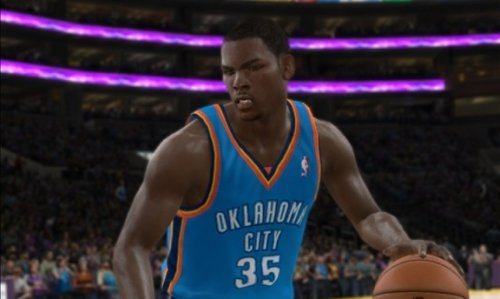 At the cover athlete announcement party earlier this week those in attendance got a chance to try out NBA Elite 11. Out of that has come a video which shows the game in action  presenting extended stretches of play with Lebron James going up against cover athlete Kevin Durant.
The quickness and responsiveness comes through at the same time displaying a lack of momentum and weight along with a sense of frantic action that doesn't always fit within the context of what is taking place. One has to wonder if Elite isn't shaping up to be a game that centers on the individuals (ie take Lebron and just do a bunch of dribble moves to get to the hole) as opposed to playing as a team. That would seem to be a reasonable expectation at this stage.
As mentioned previously all that has been put on display to this point has been through one-on-one which has certainly raised concerns about how everything will mesh in a full game environment. It appears right now EA is either using the one-on-one as a way to teach the fundamentals of the new controls or they are avoiding showing the game in full form for strategic reasons. Continue on to check out the video and leave your thoughts in the comments!