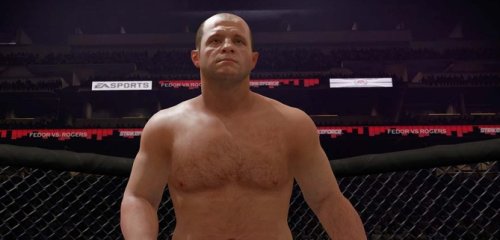 While expectations have been building due to good showings while still in an early state (it showed very well at E3) EA Sports MMA has been hit by a few setbacks that could ultimately damage its potential to break out. Back in April it was a post-Strikeforce event brawl that made the promotion, which acts as the most high profile license involved in EA MMA, look second rate. Now over the weekend co-cover athlete Fedor Emelianenko went down in his fight against Fabricio Werdum submitting after just 69 seconds.
Granted this is essentially Fedor's first loss ever and had won 28 straight fights over the past 10 years. By no means does the loss remove him from being considered in the upper echelon of fighters. However what it does is makes the marketing of EA Sports MMA even more difficult than it already was. EA can no longer promote the game by labeling Fedor as the best heavyweight in the world let alone the best fighter in the world. Along with Randy Couture the two are the most high profile names involved with the game. It will be tougher to push Fedor as the face of the game given the defeat and Couture is currently fighting in the UFC.
While the loss came out of nowhere many had begun to spot a drop-off in Fedor's performance. His last several fights have been noticeably unimpressive leading up to the defeat. Despite being highly desired by the UFC Fedor has turned down offers to join in order to avoid losing control over the promotion of his fights. Ever the man to capitalize on news that makes his competitors look bad, UFC president Dana White took pleasure in the loss posting this response following the fight on Twitter which was similar to his reaction after the Strikeforce brawl.