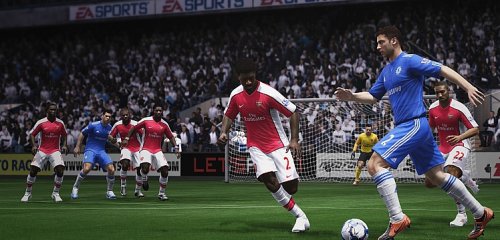 The FIFA series has settled into mid-October releases which in turn have provided a cushion from the the NBA games (first Tuesday of October). However this year with the release of FIFA 11 the game is scheduled for September 28th. The reason it has been pushed up is linked to EA Sports MMA. That game will hit stores on October 19th.
Again I can't help but think there are just too many sports games being released in a very short stretch of time. In just a six week span EA Sports will be putting out five high profile games: NHL 11 (9/7), FIFA 11 (9/28), NBA Elite 11 (10/5), NBA Jam (10/5), and EA Sports MMA (10/19). Then add in another highly anticipated release in NBA 2K11 (10/5) and maybe even Smackdown vs Raw 2011 (10/26) and it is clear that some gamers will be forced to choose between these titles therefore bypassing those they may have purchased otherwise.
Following the release of EA Sports MMA there will be a a pretty large void that carries through the holiday season where no currently announced games have been slated to fall. November would seem to have been a better fit for MMA and could have spread the releases out better by allowing FIFA to remain in its normal slot, but maybe the poor sales of the NCAA Basketball series scared EA away from the month which tends to be flooded by big budget games in other genres.