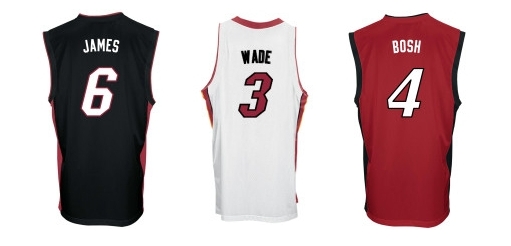 There is a new big three in the NBA as Lebron James has decided to join up with Dwyane Wade and Chris Bosh on the Miami Heat crushing the city of Cleveland in the process. While this represents an intimidating triumvirate the rest of the roster will probably end up consisting of Mario Chalmers, second round draft picks, and any players that can be persuaded to join the team at the minimum to make a run at the title.
Looking at this from the perspective of how it will affect NBA Elite 11 and NBA 2K11 the Heat will certainly become the most used team online and a favorite to take control of in all modes. The Lakers and Bulls will probably be the next two most popular squads to use.
What do you think of Lebron leaving home to team up with Wade and Bosh in South Beach? Was it a cop-out for him to seemingly decide to ride the coattails of Wade or is this a selfless act all about winning? What do you see as the prospects for the Heat this coming season? Leave your thoughts in the comments!