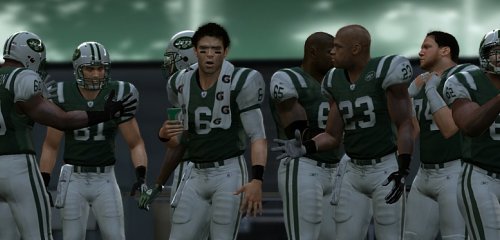 As I first reported during E3 the Madden 11 demo will feature full five minute quarters, and we've known for a long while now that the matchup would be New York Jets vs Indianapolis Colts. Gamespot today revealed more details which includes the news that the demo will arrive for both the 360 and PS3 on Tuesday July 27th.
Also noted is the difficulty level will be selectable, gameplay sliders will be available to tweak, the game will be played at the New Meadowlands Stadium, and the ability is given to create a full GamePlan to use with GameFlow (using only the Jets or Colts playbooks however). Creating a Gameplan will also grant the "Master Strategist" achievement/trophy once the full version of Madden 11 is played.
Clearly this is a huge improvement over how the demo has been handed in previous years. I still liked the idea of using the new overtime period for a demo but having a full game is a great way to allow people to get a feel for the pace and features of the game rather than having a rushed and ultimately unsatisfying experience which has been the case in the past.