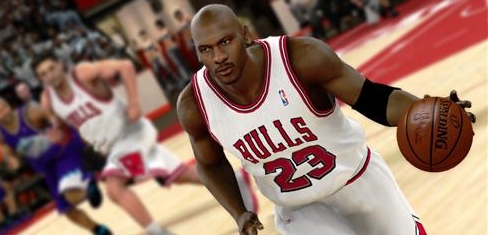 Though it has been suspected ever since Michael Jordan was revealed to be the cover athlete for NBA 2K11 there is finally confirmation on a new mode featuring him in-game. The mode will be known as "The Jordan Challenge" and allow for gamers to recreate many of his career highlights as well as play with some classic Chicago Bulls teams of the 80s and 90s (though based on the screenshot above it appears there will be some generic players included on the roster).
CNBC has further details on the mode which has 10 different versions of Jordan, the different situations to play through, and that each one requires certain goals be met such as matching point totals or shooting percentages.
The games that fans can play with different versions of Jordan include all of the following: April 20, 1986 (Game 2 of the 1st round of the playoffs against the Celtics when Jordan scored 63), March 28, 1990 (regular season game against the Cavs when Jordan scored 69), June 3, 1992 (Game 1 of the first round of the playoffs versus the Trail Blazers when Jordan scored 35 in the first half), March 28, 1995 (Jordan returns to the game and scores 55 against the Knicks), June 11, 1997 (the famous Jordan "flu game") and June 14,1998 (the day of his last game in a Bulls uniform as his last second shot gives the Bulls its sixth title under his reign).
It is also stated that there will be additional features in NBA 2K11 that will feature Jordan and be discussed leading up to release of the game. What do you think of "The Jordan Challenge" and what it means for NBA 2K11? Leave your thoughts in the comments!