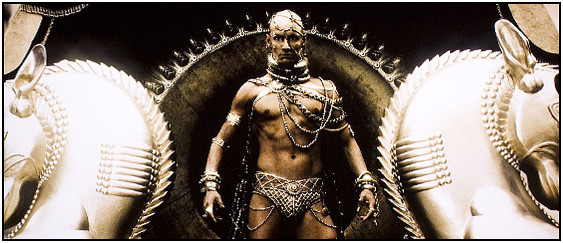 Back in March, director Zach Snyder broke the news that Frank Miller was working on a follow-up to 300, which would focus on 'Xerxes'. In an interview with the LA Times, Snyder shared some more details.
This movie follows Themistocles and the Battle of Artemisium, which coincidentally happens on the exact same three days as the Battle of Thermopylae [which was the basis of 300]. This one starts off with a quick retelling of the why of the Persian wars. It starts off at the Battle of Marathon and then it goes back to Themistocles finding out that Persians are invading again. And off we go over to learn a little bit about why Xerxes is the way he is
The film probably shouldn't be considered a prequel or a sequel, as it occurs during the same few days that 300 did. There was no confirmation whether Gerard Butler would make a cameo as King Leonidas, but story does involve a political relationship between he and Xerxes. I like the idea of the storylines being somewhat intertwined and seeing scenes that could have been going on during 300 that we didn't see. Of course, Snyder said the new film would feature the same great visuals and action 300 did. The odd thing about all of this is there isn't a deal in place yet for Snyder to direct the film as they are still working on writing the script. I believe it's only a matter of time before something is finalized.