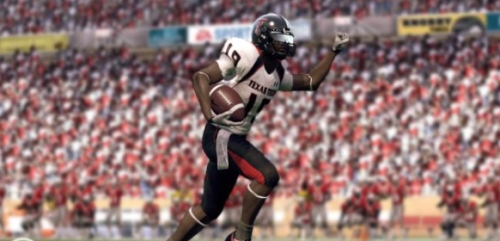 Though NCAA Football 11 has been received extremely well it was inevitable that there would be issues discovered with the game in serious need of being addressed. The biggest ones have been the QBs getting stuck in animations (PA rollout screen plays) and running backwards for safeties and generated recruits coming in with some terrible ratings resulting in really weak teams after a few years in dynasty.
According to EA Sports the next patch for NCAA 11 is on track to arrive sometime in mid-August. They have posted a blog that goes over some of what to expect in the upcoming patch. Additionally this year they have "Live Tuning Packages" which allows them to update some aspects of the game without going through the patch process. The dynasty issue and other gameplay tweaks may be attacked through that method instead which would be a pleasant surprise. Continue on to check out the full write-up and leave your thoughts in the comments!
IT'S THE SOUND YOU'VE WAITED DAYS TO HEAR…
With a nod to my favorite NCAA Football intro video, first things first… I'm happy to report that a title update is coming soon. Look for this in about two-to-three weeks or so (currently estimating mid-August). We'll communicate the official dates as soon as they're locked in.
This new update covers a variety of fixes and improvements. The team will release more details in the coming days, but I wanted to provide a few highlights as well as discuss one final game "feature" that we have yet to formally announce. First some background…
WHY BAD THINGS HAPPEN TO GOOD FOOTBALL GAMES
Some of you may wonder, and rightfully so, "how did they miss that bug?!!" The same thing goes on here at the studio, "HOW DID WE MISS THAT BUG!!" usually with some colorful expletives thrown in for good measure.
But why does this happen? To start with, software development is a complex science and this is why nearly every game and software company on the planet is continually challenged and often frustrated in the pursuit of software perfection. Windows Service Packs, multiple iPhone O/S and application updates, etc. You get the picture…
Now let's consider video games. Sports games are some of the most complex video games in existence today, and I'd argue that the logic and sophistication of football rivals them all. The real-world game of college football is complicated enough with its massive and constantly evolving rulebook, schedules, and even conference realignments*. Now try to imagine the complexity of a video game in full HD running at 60 frames-per-second while attempting to mimic not only visual photorealism in 5.1 stereo but believable simulated behavior of 22 individual players, refs, coaching staff, broadcasters, and fans. And now connect that same experience to hundreds of thousands of players through a broad array of servers and databases across the country all in real-time over a far-less-than-perfect Internet. This is also why features that seemed almost trivial in the last generation of consoles, seem to be advancing slower with this new generation. Hardware, connectivity, and the scale of "HD" just make everything much more complex to properly develop and execute. To give you some perspective, the NCAA Football 11 codebase contains more than 10 million lines of source code and script combined with over 350 gigabytes of graphics, sound, and data files. This all then gets compiled, compressed, and packaged into what you'll find on your game disk.
Over the past year we logged tens-of-thousands of hours of QA on the game in addition to tens-of-thousands of hours more in scripted game testing through networks of automated game consoles here at the studio. And even for all that testing, anomalies, exploits, and bugs can still happen. Consider that within days of game launch, more than 1,000,000 games will be played – more games than can be possibly exercised by an army of testers in a single year.
This isn't an excuse for not getting things right the first time, but I did want to provide some context. Sometimes the problems are edge-cases; sometimes it's an issue of massive online scale that can't be reproduced in a lab, or simply plain old human error. But when problems are discovered please know that we as developers, and true longtime fans of the game, also share your frustration. We take bugs very seriously. Our number one goal is to always deliver the highest quality and most enjoyable game of simulated college football possible. Which brings me to the last unannounced feature you'll find in NCAA Football 11… One way in which we've been working to improve the game experience for everyone this year.
NEW FOR NCAA FOOTBALL 11 — LIVE TUNING PACKAGES
A number of you have already noticed that we do a check for "Online Gameplay Tuning" when connecting to our online servers. Some of you may also have found a new "Tuning" category in the Files menu. This is a new technology for NCAA Football 11 that allows us to not only live update and tune core gameplay parameters — like fumbles, throw accuracy, and juke success ratings — but it also allows us to rebalance certain core features such as recruiting logic, blocking, even control the intensity of shadows cast by the football on a sunny day!
These new Live Tuning Packages (LTPs) contain literally 1000's of key parameters which drive the heart of our game; parameters that live well below the level of specific player or team ratings. With our new LTPs we can often turn changes around in a few days. It can't solve everything, and some issues will still require a traditional client update, but for many items it's definitely a more powerful and faster strategy for tuning throughout the season.
Our first LTP should be arriving next week along with detailed notes on what the update contains. I can tell you that based on the collective feedback we've received, we will be carefully down-tuning the athleticism of defensive lineman and reduce the number of impressive picks by the big guys. We're also looking to address a few important dynasty progression and recruiting issues.
NCAA FOOTBALL 11 ONLINE SERVER UPDATES
The NCAA Football Live Team, a group dedicated to server-side health and maintenance, has been very busy over the last two weeks since launch. We apologize for any issues you may have experienced in recent days. The team has been upgrading hardware, tuning databases, and fixing web issues as they arise. Most of these changes happen behind-the-scenes on a daily and nightly basis. Here a few of the most visible fixes so far:
-Fixed online leaderboard exploit
-Fixed potential crash at online team-select screen
-Fixed post-game email formatting
-Optimized various database queries
-Various hardware upgrades and backend optimizations
Work will continue on server optimizations throughout the season to ensure a fast and enjoyable online experience for everyone. We're also working to do a better job of communicating upcoming fixes and outages so that everyone has a better handle on what's happening. And by the way, just to dispel a common myth, if you have lag issues when playing an online opponent, it's unlikely to be an EA Server issue. Our matchmaking system works by telling your consoles to directly connect to each other for the game and then report back the results. The network traffic doesn't go through our servers like an MMO. If you have problems or disconnects, it could be your ISP, local networking gear, or simply someone unhappy about the way the game is going and pulling the cord. It happens.
NCAA FOOTBALL 11 CLIENT UPDATE 2 (aka Patch #2)
More details on the client update to come, but here are three of the big ones we've solved:
-RANDOM PLAY ACTION CRAZINESS – Sure it looks funny, but annoying as heck when it costs you a drive or a game. We're sorry we missed this one as well and apologize for the issue.
-SEASON SHOWDOWN STATS REPORTING – The season showdown warning is harmless right now and this issue and related lobby problems ultimately get fixed with the update.
-UNIFORMS THAT NEVER NEED WASHING – This is one of the more painful ones for us given all the work on visuals this year. The game actually does degrade uniforms; unfortunately we broke something in a final build that made the impact way too subtle. Consider this one solved with the update.
LOOKING AHEAD
My apologies to longtime fans like ODogg who can't find peace without dreadlocks. Or others who've been aggressively petitioning for broadcast cameras or bowl patches. We just weren't able to get them into NCAA Football 11 given all the other work we had to take care of this year. And unfortunately, these aren't things that we can simply "patch in". I can tell you they're on our wishlists as well and we hope to get to them in a future version. Look for a link to a new Satisfaction and Feature Request Survey in my next blog.