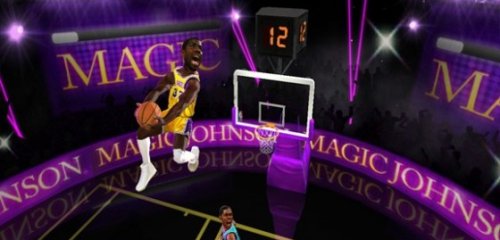 ESPN has a new preview up of NBA Jam which focuses on the "Boss Battles" and inclusion of NBA Legends. Confirmed for the game are Magic Johnson, Dennis Rodman, Larry Bird, Hakeem Olajuwon, James Worthy, Kevin McHale, Clyde Drexler, Detlef Schrempf, Spud Webb and Manute Bol. There will be more than 30 legends in all so there are plenty more to be revealed if you're hoping for someone in particular.
The funny thing about the Magic battle is you give it to people and they're like, whatever, it's just 1-on-1. Then he disappears and reappears and disappears and reappears and there is that "what the hell" moment. You think he's cheating, but that's a boss battle. The first time you go in, you are going to get your [expletive] handed to you. You're probably going to lose the first five or 10 times you go in, but that's a boss battle. That's old school. But then you recognize something about the way he plays and there's that "aha" moment. And then, it's all about executing. It's about recognizing the patterns and finding that chink in the armor and exploiting it. And there is that real sense of accomplishment when you finally do beat him because it is such a challenge.
Still no further news on the 360/PS3 versions of NBA Jam which we know are coming but remains in question as to when that will be (probably not until sometime in 2011). Continue on to check out a new video and as always feel free to leave your thoughts in the comments!