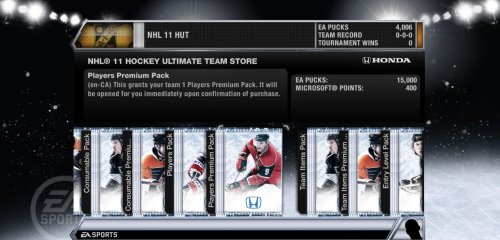 NHL 11 will introduce its own version of Ultimate Team mode taking it to the next level by involving a massive online league structure known as Ultimate Team Hockey League (UTHL). Ultimate Team involves building up squads from scratch through the purchase of card packs or individual cards which represent players, coaches, contracts, injuries, stadiums, and uniforms. Playing online games within the mode earns credits to spend on purchases to sustain and improve a roster.
UTHL divides everyone into three separate divisions once playoff time rolls around. There's amateur, pro and elite. Players begin with the pre-season where you'll earn your first deck of cards, and then they'll play through the month-long regular season, followed by the playoffs which carry into the first three days of the following month. If you take the crown for your league, every time another player enters your arena they'll be treated to a championship banner raising to your ceiling, just to remind them that they're playing a former champ. IGN
Just like FIFA Ultimate Team and Madden Ultimate Team the mode will be driven heavily by microtransactions. Spending money to build them up will produce much more powerful squads than those that are done so organically without shelling out the cash. There will also be a marketplace which has proven to be quite popular in the other games, where cards can be auctioned off or purchased. Continue on to check out the video on the new mode and leave your thoughts in the comments!